Want to see it in action? Check out the videos on the SlideFab YouTube channel!
If you need to get Excel data into pre-defined PowerPoint template slides more than just once, then SlideFab 2 will help you automate this task.
This is what you have to know
1 PowerPoint Template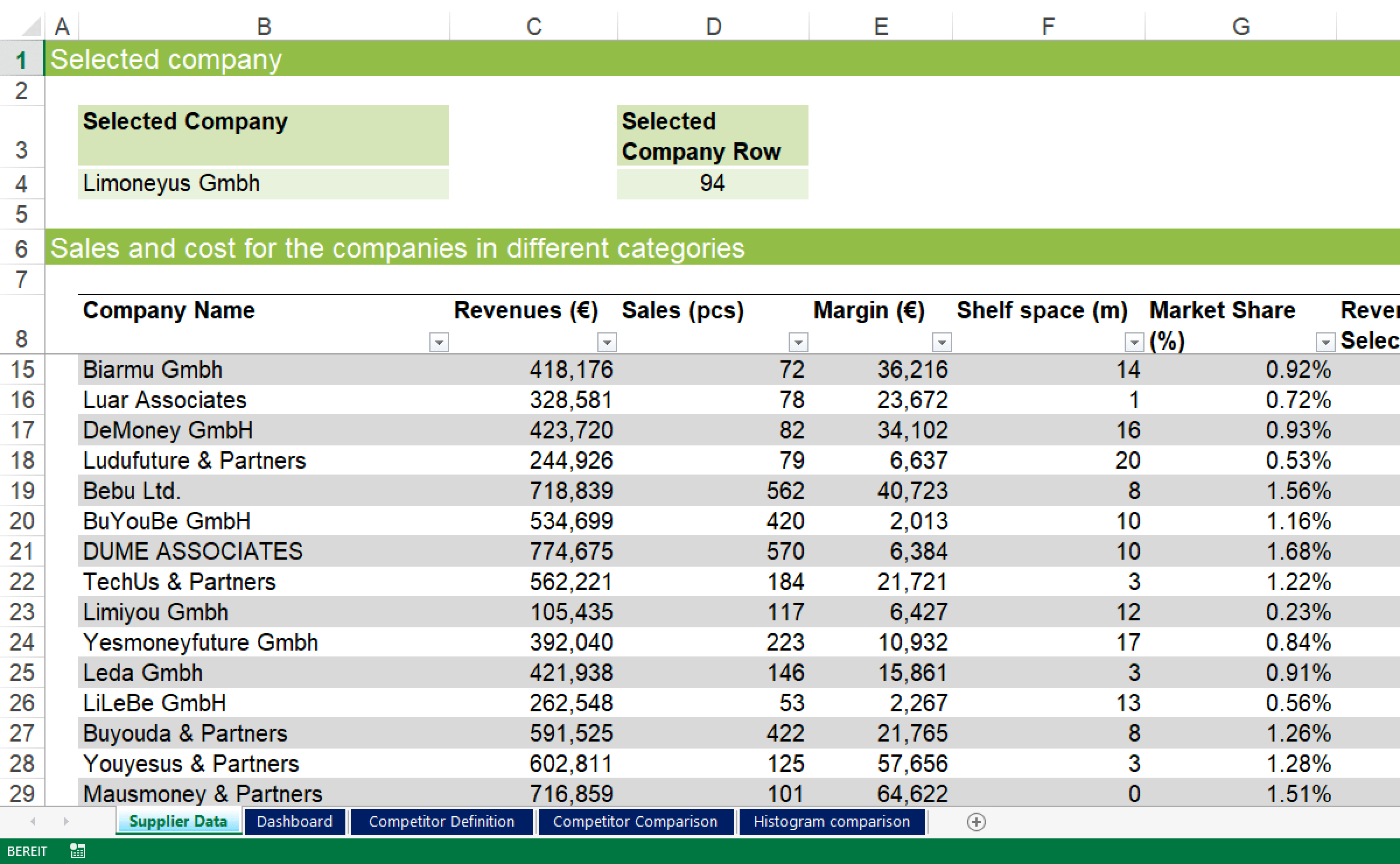 1 Excel Workbook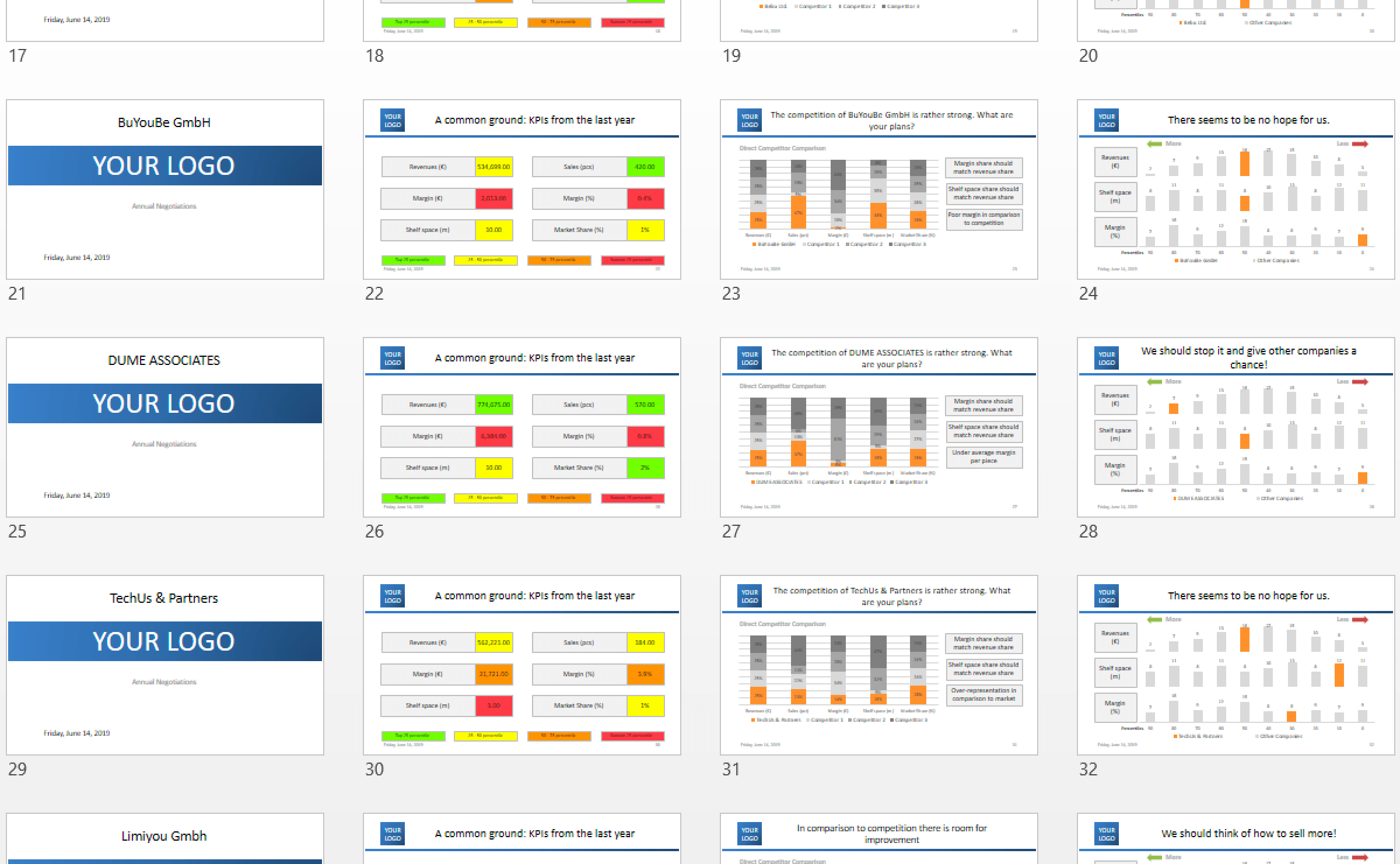 1 – 999 PowerPoint Slides
Using SlideFab 2 for automating such a task
will save time and resources.
Dozens of output slides can be created
from an Excel workbook and a PowerPoint
template slide within minutes.
No manual copy & paste from Excel to PowerPoint
has to be done. No VBA macro has to be programmed.
This is why SlideFab 2 exists
SlideFab was invented during a project where 20 scenarios – each having different constraints – were analyzed. Whenever new data was incorporated into the Excel workbook, all PowerPoint slides for the management had to be updated. This was a tedious work. It wasted lots of precious time. Most people handle such situations by rigorously applying copy&paste. Others write macros which are not really maintainable and often create more overhead then help. So, during this project the idea came up that automation has to be simplified. The ambition was that everybody with decent Excel skills (i.e. knowing what a VLookup is) should be able to create an Excel-based slide-making automation. So SlideFab 1 was created. It did the job perfectly but it was way too complicated. Based on user feedback, process redesign and modern UX concepts the all-new SlideFab 2 was built from scratch. It empowers users to create a slide mass production within minutes. It contains numerous features out of the box which are for most coders unreachable in the given time frame. Basically, SlideFab 2 disrupts the classical way how slide mass-production has been made for decades (i.e. manual copy&paste and VBA coding).
This is when you need it
Basically, there are two situations when SlideFab 2 will help you:
You have to fill lots of data from Excel into template slides in PowerPoint slides. This can be the case when you have data for maybe 20 companies and you want to create 1 slide per company containing some key figures.
You will need to create the same slides on a regular basis with update numbers . This can be the case in monthly reporting, where the structure is the same but numbers, charts and titles change over time.
Consider the following use-case from the procurement domain: SlideFab 2 can help you to increase your negotiation power and, thus, create more savings:
Download the Excel and PowerPoint files of the supplier negotiation video.
SlideFab 2 is not about just linking Excel to PowerPoint. SlideFab 2 brings in a lot more: It creates new slides based on templates. It supports texts, conditional formats, tables, shapes, images and more. It sorts slides. It decomposes slides into separate files. There are so many features that go way beyond mere linking between Excel and PowerPoint.
This is how it works
Step 1: Defining the iteration loop
One of the concepts in SlideFab 2 is that the same template slides can be created with different data over and over again. Therefor, SlideFab 2 needs to know two things:
What cell in Excel defines the current loop? This is called the "Loop Master Cell".
In what Excel range are the entries to repeat? This is called the "Loop Candidates Range".
Define these two and the software will create you as many slides and presentations as you wish.
Step 2: Linking your PowerPoint shapes to Excel
Basically, to connect PowerPoint with Excel, there are only three steps required:
Select a PowerPoint shape
Choose the Excel range
Click the SlideFab crosshair
Easy, isn't it?! Creating a "Hello World" project takes less than two minutes.
Step 3: Start the fabrication
With the links being set up between PowerPoint shapes and Excel ranges and also with the iteration loop in place, it is now time to make some slides.
These three steps give a first impression on how it works. But on top of this, more details can be found in the documentation. Even better, some nifty customization tricks most people haven't heard of make SlideFab 2 a real asset.
This is what it costs
SlideFab 2 is available for free as LITE edition. This gives you all features of SlideFab 2 which will save you lots of time. Its only limitation is that it automates only two shapes per slide: This means that for each template slide you can have a dynamic title based on an Excel formula and some linked content, e.g. a chart or a table. All other elements on the template (e.g. a logo) will remain static.
To unleash SlideFab 2 LITE from the limitation of automating only two shapes per template slide two full versions exist: FLEX is cancellable monthly and SAVER coming with >15% discount is cancellable annually.
Automation Limitation:
2 shapes per slide
EUR 20 ~ USD 22
EUR 17 ~ USD 19
Instead of purchasing via this website you can also place an order and pay the invoice via bank transfer. In this case please reach out to info@slidefab.com.