SlideFab 2 version 7.0 adds a small new feature which is a great leap forward for building simple Excel models: A new feature to filter pivot tables. With this it is possible to avoid VBA coding to change the pivot filter, like it was used in this old blog post for creating category trees. And this new feature also removes the need to write aggregating formulas for all those, who did not use the VBA snippet in the first place.
This means that it is much simpler to mass produce PowerPoint slides based with Excel charts, when these charts are Excel pivot table charts, which automatically change when the filtering is changed.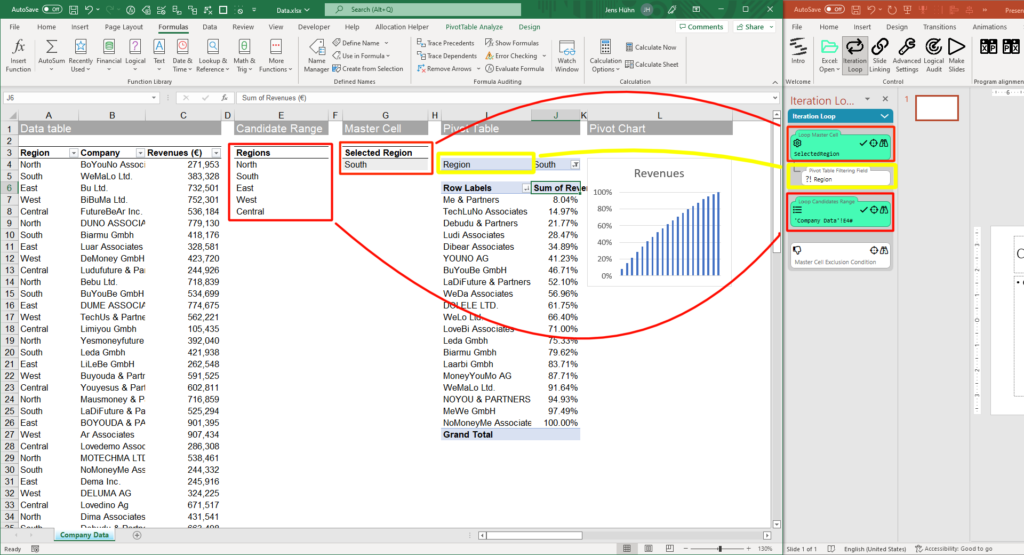 Using the new pivot table filtering is really simple. When using the Iteration Loop side pane, just connect the Master Cell and Candidate Range as usual (marked in red in the screenshot). Then type the pivot field name to filter into the respective control underneath the Master Cell control (marked in yellow in the screenshot). Then SlideFab will iterate each candidate as always. But it will not only copy the candidate into the Master Cell in Excel, it will also search for all pivot tables in the workbook and try to filter them in the given field name by the value of the Master Cell.
Bugfixes in version 7.0:
Fixed a bug when erroneous named ranges stopped SlideFab from detecting the named ranges to check the reference edit validity.
This new version is available at the download page. Already installed SlideFab updates automatically.