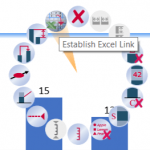 SlideFab 2 v1.7 brings not many updates but for fans of think-cell a significant one: When a PowerPoint template slide contains one or more Excel-linked think-cell charts, SlideFab will allow the chart update and break the Excel links for the output slides. In this way the output slides will contain real think-cell charts (not just mere screenshots or so) which can be fine-tuned or altered when required. Further information about how this works can be found in the documentation.
What's new in SlideFab 2 v1.7
Features:
think-cell charts are now supported: Whenever a user links a think-cell slide to the Excel workbook SlideFab is using as well, its data will be updated for the output presentation. The link from the think-cell charts in the output presentation to the Excel file will be broken to. This avoids unintended changes of the chart data. From a user perspective it is very simple. Apart from linking the think-cell chart with a data range in Excel, it requires no additional steps in SlideFab 2. Important note: think-cell is a separate software which requires a separate license. There is no contract or any other connection between SlideFab 2 and think-cell. Consequently, SlideFab cannot guarantee that think-cell works properly. Any software updates or changes on the side of think-cell might interfere with this automation feature. This is also the reason why think-cell charts do not count into the 2 shapes per slide of the free SlideFab 2 lite version. In other words: Even with free SlideFab 2 lite you can basically link and automate as many think-cell charts as you want.
Bug Fixes:
In Office 2010 loading images from the file system into a PowerPoint presentation during mass-production led to an error. This is fixed now.
An invalid error message in the log due to a minor bug in the shape condition field was fixed.
Minor code improvements and bug fixes
Disclaimer:
think-cell is a product of think-cell Sales GmbH & Co.